Geroo
From Hayven Celestia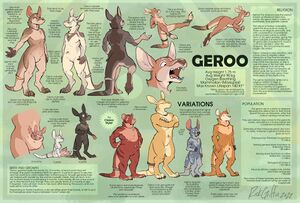 Geroo Heroforge Model: Free to use
Geroo In Environment Suit Heroforge Model: Free to use
Strands

Communicators/computer terminals/wallets worn in a holster on the left bicep (typically).
The geroo call their communicators strands because the connectedness they feel "weaves the people into a tapestry."

While the geroo think this is their own original concept, the fact the geordians, who discovered the geroo, also call their communicators "strands" lends some credence to alternative theories.

When sitting down with friends, geroo consider it polite to remove their strands and set them face down on the table to indicate "you have my full attention."

Currency - Credits (written ₢5 to indicate five credits) are stored electronically on their strands. Geroo transfer money from one strand to another by tapping them together.