Anup
From Hayven Celestia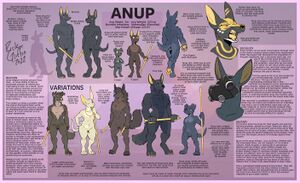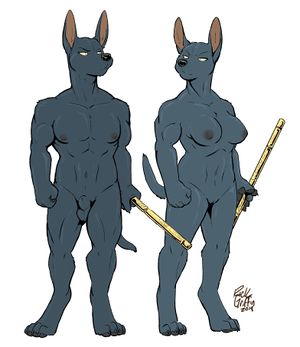 Language
Anupese is a tonal language. The actual inflections of the tones are not depicted in text. The language is also highly laconic. Lots of parts of speech are elided if they are understood from context. There are no articles, referential pronouns are frequently dropped, and entire parts of a sentence can be omitted so long as one word can convey the meaning.
Unsorted Language References
"Eendie ora so a?" A feminine voice asked
- "Is that you, Eendie?" (Eendie = diminutive of Eendar)
"Eeesah," Eendie muttered
- "Uuugh."
"Cheia! En soder . . ." She growled, baring both rows of sharp teeth.
- "Dammit! That bastard . . ."
She sniffed and wiped her face. "Nega . . ."
- "What (am I going to do?) . . ."
"Ora so a?" she said again.
- "Is that you?"
". . . En soder," Eendie mumbled, and flopped her head back onto her pillow.
- ". . . bastard."
"Nehsi e kah?" Eendie demanded.
- "What happened to (my) rod?
"Mo so, orenjum," Gihdah said with a monotonous tone that didn't match her emotion at all.
- "Clearly, (it's been) misplaced."
"Intekki a tora so e a mundu," Eendie barked. "Etha!"
- "It was right next to me while I was sleeping. (Now it's) gone!"
- "(That is) your problem (to solve.)"
"Ondeta," Eendie said, and Gert was certain he could hear the coldness in her voice. "Noh. Indeh ra jo."
- "I looked. (It's) nowhere. Someone moved it."
"Aigona wen geroo do jo."
- "It could have been the geroo."
- "You think the geroo (did it)?"
"Ingmagar ja sai gona e a geroo jeist, ba krakun on dan," Eendie said.
- "I saw that geroo wandering the hallways a few hours ago, the krakun doesn't seem to care."
"E so," Gihdah grunted. "Dah."
- "Oh, fine. Let me (see for myself)."
"Een dek," said Gihdah, shining a flashlight underneath Eendie's bed.
- "I don't see it."
"Nee, sorbek a. Jai wen on do jo," said Eendie, her arms folded—so far as Gert could tell in the minimal light.
- "I told you so. It must have been like I said."
"Nichi ba so dek!" Eendie continued arguing with Gihdah in the barracks.
- "Just take me to the habitat!"
"O dah?" said a voice from down the hall.
- "What's that?"
"Eechi ben des," Gihdah said, matter-of-factly.
- "There's nothing there."
"Ai cha! On des unuch so—"
- "What the hell? I could have sworn I heard--"
"Bei! Andah, e eechi ben des!" Gihdah snapped back at her.
- "Stupid! I told you, there isn't anything here!"
Eendie fumed. "Noh, sesa!"
- "Don't call me that!"
"Mes eques a so," Gihdah said,
- "I still say it's in here."
"Ah!" Gihdah said. "A so, nehsi aranda."
- "Ah! See there, your rod rolled this way."
"Deh . . ." She said, uncertain.
- "But . . ."
Gihdah made a fitful noise that seemed analogous to laughter. "Noh shu! Geroo onja . . ."
- "Making me come (back here)! And you thought it was the geroo . . ."
"Deh . . . So e a mundu . . ."
- "But . . . while I was sleeping? . . ."
"Deh se sa!" She grumbled.
- "But I know (I'm right)!"
"Ayo!" one of the anup said, "Geroo do ee aindata!"
- "Hey! What are you doing up there, geroo?"
"Bogodai or dea Totaikona ama de su! Se!"
- "Answer me or I will feed you to Totaikona. Now!"
- Barracks, sleeping chamber
- The gold rod important to anup
- Sorrowful, depressed
- "What the hell?!"
"Sagha—" the anup across the room muttered.
- "I swear (something struck me)"
"Mai so ko rai du?" The other rasped in an exasperated tone.
- "Don't tell me you're seeing things too."
"E se dei e ai da!" the one nearest him stammered, more than usual, so completely taken by surprise that he gestured with an empty paw. "Nensuk aredia a cho men!"
- "My absolute and deepest apologies!" "My lord, I had no intention of disturbing you!"
"Se ga!" She shouted, and lunged at him again.
- "Get back here!"
"Isedo e!" She spoke harshly, her other arm wrapping around Gert's neck just as quickly, pinning his back to her chest.
- "You aren't getting away!"
"Seh . . . Go deh seh!" He shouted as he fell to his knees.
- "What happened . . . oh gods, what happened!?"